Heh, I'm such a freak and you'll see why in a minute. I'll just say this: you know that skinny girl who drives everyone crazy because she's always talking about how fat she is? Clearly she has issues, but she makes you want to slap her anyway. I kinda think maybe I was that girl this weekend. I'll start at the beginning.
Thursday: After work we pre-ride the course with a small group of friends who are also doing the race. I beg everyone in my best whiny tone to please take it slow. I just want to go easy and work on last minute sections that cause me pain. This is a seriously technical course with lots of possibilities for painful mistakes and I really want to nail it down. We go too fast anyway.
Friday night: I'm starting to get nervous and my legs are pretty sore from the pre-ride we did on Thursday night. Kenny and I went out and did an easy ride at Powhite just to loosen up the legs. We eat a good dinner and go to bed early. I have completely f'ed up anxiety dreams that have nothing to do with racing. Nice one, subconscious.
Saturday morning: Dread, fear, loathing, breakfast. I choke down breakfast because I know better than to skip it. My stomach is really unhappy about the whole thing and I'm feeling really, really nervous. We suit up and ride the North Trail down to Brown's Island, pick up our race numbers, talk to a bunch of friends and then ride over the ped bridge to Belle Island where the race starts.
My start is at 11am but it's clear pretty quickly that things are not running on time. The waiting is truly the hardest part. I'm feeling green around the gills and keep riding my bike in circles just to keep moving. I check out my competition, nine other women, and note that at least three of them have beat me in the past. I note the muscular thighs on one woman and sigh with resignation. This is going to SUCK.
Meanwhile, I find out that the hilltop/crazy descent that I'd worked on and worried about all week has been cut out of our race. This means a faster start, but a less tricky one too. I calm down a little. Finally, we line up our bikes, walk back to the start and wait for the word.
We're off! It's a running LeMans start which we all hate a lot, but I got to my bike, got on and started about fifth back:
(my friend Billy took this photo - that's me on the right in the yellow and black jersey)
The race started on a fast stretch of single track that went around the northeast end of the island. We lost one of the women almost immediately - she rode a log too fast and went down. I was still holding on near the back - I'm not good at going out fast. At all.
After that section we crossed over a wooden bridge and rode a river rock and cement section right next to the river that led up to the death stretch - a nearly two mile stretch of gravely fire road. I hate this section because going fast on a gravel road is not my thing. Long sprints SUCK. I geared up into my big chain ring and cranked as hard as I could. The front pack pulled away from me and another rider passed me but I kept them in sight.
The next obstacle was an outdoor cement staircase that you have to carry your bike up - I think it's nine flights and it smells like pee most of the time. I loathe the staircase. At the top I got back on my bike and crossed over the the little bridge that leads to the next section of singletrack - Buttermilk Heights. (The Heights is short but really pretty intense. Its four big hills with rocky creek crossings at the bottom - so three of those. One section involves a rooty steep descent that immediately leads to a steep uphill river rock (giant flat rocks) climb that you really have to hit just right, but I'm getting ahead of myself.)
Once on the Heights I started in for the serious work. This is where I was going to win or lose this thing. I know these trails really well and I had my line already set. By now I was starting to breathe better and my legs felt good. I go for it. I passed a few women on the more technical sections, especially the tricky river rock uphill. I think I remember yelling a warning to the beginner men stragglers, "I'M COMING THROUGH. I'M RIDING STRAIGHT THROUGH!" Man, I was bossy out there! It couldn't be helped, I just had nightmare visions of one of them stepping off their bike right in my path. They moved out of my way pretty quickly.
Towards the end of the Heights I ended up behind my friend Mary, who I was pretty sure was running third at that point. She was slowing down a bit and I offered encouragement, though I knew I'd need to find a way to pass her. Women's races are funny that way - there aren't many of us so we are all supportive, yet we're still pretty competitive. A little weird, but it usually works out.
I finally passed her on the last hairpin turn leading up to the Boulevard Bridge and I cranked it, trying to put as much distance between us as possible. Ahead of me, I saw Francine, a very nice girl who soundly beat me last year at Camp Hilbert. I went after her and passed her right after the bridge. In true Francine form, she was cheering me on. Hee! So cute. We headed around under the bridge and started on the first section of the North trail. We met up again at the big steep ramp (which can be seen in that slide show from last year) and most of us ended up walking the steepest part. At the top of the ramp there was a bit more trail and then we had to ride on the street to get to the final stretch - the North Trail. I passed Francine again on the road and at that point I was pretty sure that the only person in front of my was my friend Cristy. Cristy who I'd ridden the course with just a few days before. Cristy who won the race last year. Crap! I had to go find her.
I dove into the North Trail like my ass was on fire. This second of trail is pretty fast and twisty and I've been riding it on a regular basis for a year. I know this stuff cold. I finally caught up with Cristy who is also pretty darn fast. We rode through the first section together, across the bridge to the the new part, which has a roller coaster feel and banked up hairpin turns. As we headed for the largest of these turns I was opening my mouth to tell her to slow down (I'd taken that turn too fast in practice and skidded out) but it was too late - she did the exact same thing and over corrected. I made sure she was okay and then passed her.
It was all on me from then on. I hauled ass, people. I don't think I've ever ridden so fast in my life. I was in front, IN FRONT, and I actually got to yell, "race leader, coming through!" to one of the beginner men who was standing on the trail. I had no idea how far behind me Francine and Cristy were, so I hauled ass, for real. I climbed the last dusty climb, rode my new line over the rocks to the ramp-bridge thing, geared up to my big ring and rode hell-for-leather for the finish line. And won the damn thing. First Sport win ever. My time was 41 minutes, 9 seconds a big improvement from last year's 45 minutes, 06 seconds. Here's a shot of me on the podium being a dork: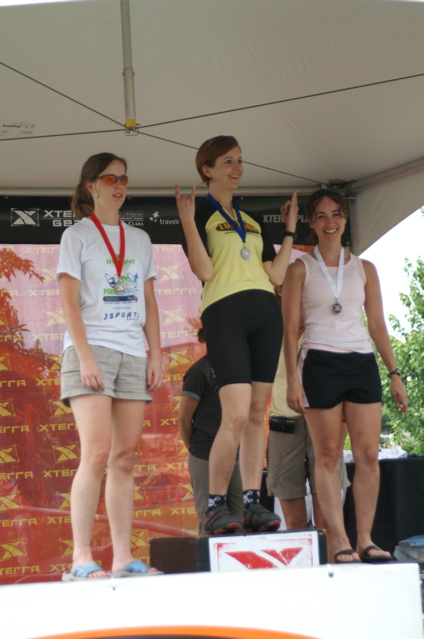 Unfortunately, due to sloppy and misleading trail markings, Kenny and a bunch of other racers took a long fork instead of a short cut in once section of Buttermilk and it hurt his placing. He still came in 9th which is damn fine and I'm proud of him. Our friend Ethan returned to racing after years of retirement from the Jr. NORBA circuit and took 3rd place in the single speed category. My badass friend Paula placed first in Expert Women which surprises me not at all. She's part of why I have the skinny-girl syndrome I was talking about way at the top of this (incredibly long) entry. Because I'm so used to riding with her and her husband and Kenny, all incredibly fast and experienced riders, I often feel poky and slow, when in fact I'm not, it's just because I'm judging myself against a bunch of freaking experts. Hmph.
Here's a great picture of Kenny navigating one of the really technical sections:
I was really very touched by how nice everyone was and truly appreciate all the hugs and high-fives I got. It was also nice hearing my name being shouted from the crowds, so thanks, shouters! That was the best. I also got a good pre-race pep talk from the Downhill Lummoxes who take all the credit for my win. They can have it, because they were awesome. It was a really great day.